At Dental Care on Golf Links, we love making dentures. We have seen how well made dentures can have an incredible impact on the lives of our patients and is extremely rewarding for both the patient and dentist.
Dentures can change people's lives by drastically improving appearance and eating habits.
There are two roads to a new set ofcomplete dentures: conventional complete dentures and immediate complete dentures. The steps in the process between the two dentures are different, but the end result is the same; dentures that are comfortable, improve your ability to chew, speak, and give you an esthetically pleasing smile.
Before and after example: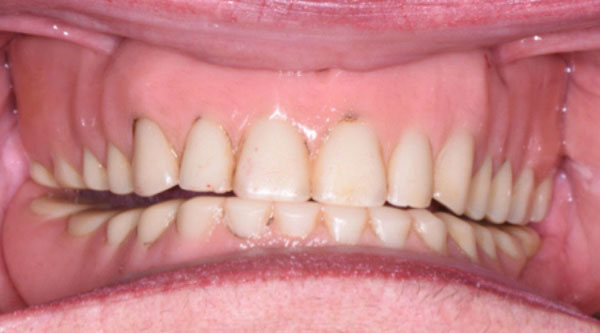 Below we highlight our process for complete dentures. Understanding the process illustrates the time and care that go into each set of dentures; both a science and an art, proper technique and attention to detail in every step of the process are crucial for the best final outcome. Not all dentures are made equal. At DCGL, we take our denture game very seriously.
Immediate complete dentures are fabricated when there are still remaining teeth that need removal.
As a result, the complete denture has to be made prior to tooth extraction (so you never go toothless). For immediate dentures, 1-2 initial visits are needed to take impressions and photos. Your dentist then digitally plans and designs the denture utilizing photos and models. The design is then communicated with the laboratory, and the denture is fabricated. On the day of tooth removal, the immediate denture is placed, and you leave our office with new teeth and a new smile. Below is an example of before and after immediate dentures.
This treatment took two appointments:
Impressions and photos
Extraction of teeth and placement of upper and lower immediate complete dentures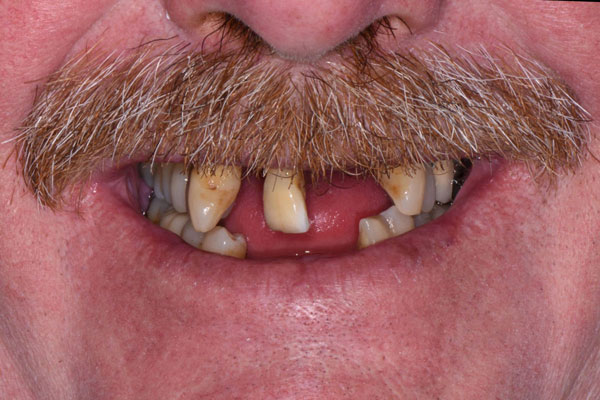 Before/after pictures showing how the patient's appearance drastically improves after receiving dentures.
Conventional complete dentures, unlike immediate dentures, are made to replace an old set of dentures, or when no remaining teeth are present.
The 5 key steps to creating a great complete denture:
Initial impression
Final impression with custom tray and photos
Wax try-in and bite registration
Try-in with teeth set in wax
Final denture delivery
Initial impression: This visit is the start of the process. We take a quick and simple impression from which a custom tray is fabricated. The custom tray is used to take a very accurate final impression.
Final impression: Now that the custom impression tray is ready, we are ready for the most important step in the process. At this visit, we take meticulous care to get the best impression of your gums and all accessory anatomy that will affect the fit, comfort, and retention of your final denture.
As you can see in the photo, the custom tray already begins to take the shape of your final denture. Impression material is placed in the tray, and we go through a series of movements while this material is setting. This ensures all possible anatomy including muscles, cheeks, gums, tongue, etc. can be incorporated into the final design.
Wax try-in: Your final denture is beginning to take shape, the portion of denture that comes into contract with your gums, a.k.a. the denture base, is now finished and can be evaluated for fit, retention, and comfort. Modifications made if needed.
The wax represents where teeth will be placed, thus it is used as a reference to verify the shape, height, and width that will give us ideal esthetics, speech, and chewing ability. If alterations are needed, we simply modify the wax and re-evaluate during the appointment. Once everything is perfect, we take a record of your bite and everything is returned to the lab for teeth to be added.
Mouth with wax tray. The wax tray enables the denture to be created to give patients ideal looks, speech and chewing.
Esthetic/functional try-in:
Denture teeth have now been added to the denture and are held in place by wax so modifications can still be made. At this visit, we make sure the teeth are in the right place, again to verify esthetics, speech, and function (chewing). At this appointment, you have the opportunity to communicate with your dentist if there is anything that looks or feels "off".
In the images below, you can see why this is an important step. If the teeth are not in the right place, not the right color, too small, too large, etc., we have the opportunity to correct them. The dentist will use photos and basic software to communicate needed modifications with the lab technician prior to finalizing the denture.
Denture delivery:
 The day has arrived! During this appointment, you receive your final dentures. Minor adjustments for fit and chewing may be made during this appointment.
The dentures are sitting perfectly in the mouth. The bite is optimal and the patient's appearance has completely changed.
Procedure: Locator Retained Overdenture
Procedure: Removable Partial Dentures
Procedure: Removable Complete Dentures
Useful links: