Dr. James Raymond
Dr. James Raymond joined our practice in 2015 and comes to us by way of a little town called Fort Kent, Maine, nestled along the Canadian border in the northeast-most reaches of US. (A quick 43 hour drive from Tucson.)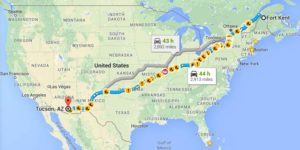 "Growing up, I was surrounded by potato fields, pines, moose, and not much else. I've picked a few potatoes in my day, and my upbringing taught me the values of hard work and community. I take pride in a job well done and am committed to achieving excellence not only in the quality of the care I provide, but the manner in which I deliver that care."
Being the son of a dentist, Dr. Raymond recognized at an early age the amazing gift his father was able to share with his community, and the appreciation and many friendships that developed through a lifetime of service in dentistry. Dr. Raymond is now the fifth dentist in his family, and with a father, brother, sister, and uncle sharing in the profession, you could say dentistry is in his genetic code.
After graduating high school, Dr. Raymond left the frozen tundra of Fort Kent on a southbound journey toward warmer pastures. He attended the University of North Carolina at Chapel Hill and graduated from the honors program with a B.S. in Biology. He is a Tar Heel fanatic, and photographic proof of a younger, even skinnier Dr. Raymond hangs in the UNC Basketball Hall of Fame in Chapel Hill, NC.
Dr. Raymond then moved to Boston, where he attended Tufts University School of Dental Medicine, and has worked in private practice before relocating to Tucson.From his initial courses at Tufts, Dr. Raymond developed a passion for restorative dentistry, excelling in crown and bridge and implant prostheses, as well as esthetic dentistry. He continues his professional studies through involvement with local study clubs and courses at the Scottsdale Center for Dentistry.Beyond his work at our office, Dr. Raymond is passionate about his involvement in dental outreach programs, both within the US and abroad. During his most recent mission trip, Dr. Raymond spent 10 days in the Dominican Republic, providing free care to underserved children.On the weekends, you will find Dr. Raymond trail running in the Catalina foothills, or simply sitting atop Mt. Lemmon, pondering the existence of pine trees in the desert with his girlfriend, Jessie, a Ph.D student at UA. Dr. Raymond loves traveling, snowboarding, surfing, and playing guitar, piano, and mandolin. He dreams of one day taking his one-man folk band on the road, but in the meantime, is more than happy to take care of your dental needs.