Dental Care on Golf Links has been treating Tucson families for over 35 years.  People that visit our practice for the first time are often surprised at the friendly and caring greeting they receive when they walk into the front door of our practice.  We take great pride in making your dental appointment be as pleasant as possible.  This caring attitude and professionalism are several of the attributes that has made Dental Care on Golf Links one of Tucson's finest dental offices.Our philosophy is to provide personalized, quality, and comfortable dental care.  Our staff believes in providing quality dental care and preventative care to our patients, just like we would provide to our own family.  We strive for punctuality with our appointments,  time to educate, and time to explain any dental work that might be required.
Your Dental Health Is Our Primary Concern
We are a team of dental professionals that are devoted to providing safe, comfortable, and conservative dental care.
Dental Care on Golf Links provides comprehensive dental care.  We believe in optimizing oral health by evaluating the entire mouth and providing prevention care and strategies. The definition of "comprehensive care" is a concept that includes not only traditional treatment of dental disease but also prevention and early detection.
Should a dental emergency occur, we make every effort to see and care for you as soon as possible.
"Comprehensive Care" vs. "Disease care"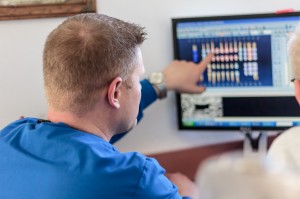 We strive to provide "Comprehensive" vs. "disease care". Our approach is provide thorough exams – checking the overall health of your mouth, which includes your teeth and gums, performing oral cancer exams, and taking x-rays when necessary. We also know that routine exams, dental cleanings, sealants, dental fluoride, and good home care habits are all helpful in preventing dental disease.  At Dental Care on Golf Links we will review your medical history to help our dental professionals stay informed of your overall health, medications, and any illnesses that may impact your dental health.
Infection control and sterilization in our office is very important
To protect our patients and our dental family we strictly maintain sterilization and cross contamination processes using standards recommended by the American Dental Association (ADA), the Occupational Safety and Health Administration (OSHA), and the Center for Disease Control (CDC).  All of the instruments that are used to provide your care are either brand new, or they are cleaned, disinfected, AND sterilized in a professional steam autoclave which is what is used in hospitals/operating rooms.  Our equipment and sterilizers are monitored and inspected continuously to ensure your safety.
Our Goal is to provide Quality and State-of-the-Art Care
As your dental health professionals, we want you to know that we not only to we care about your dental health, but we constantly strive to learn more about advances in technology, materials, equipment, and techniques.  We pride ourselves in providing care that will be comfortable and that will be easier than it was in the past.  We attend dental lectures, meetings, and dental conventions to stay informed of new techniques, the latest products, and the newest equipment that a modern dental office can utilize to provide state-of-the-art dental care.  Also, being members of various professional dental associations we are involved and aware of the wonderful advances that modern dentistry has provided.We understand how uneasy some patients may feel about their dental visits, and how we can make a difference in providing a relaxing and personal experience. Our team at Dental Care on Golf Links is dedicated to providing you with excellent, personalized care that you can trust.